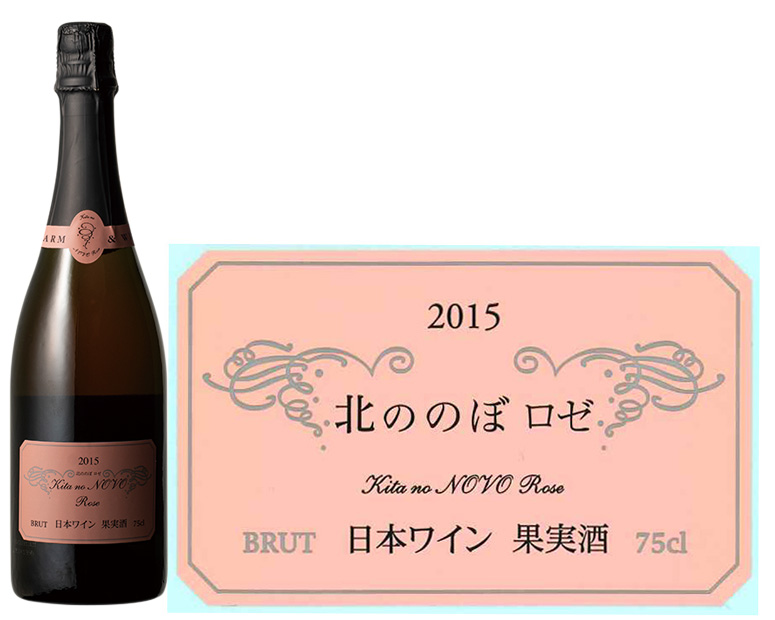 Kita-no-Novo rose is a classically styled rose sparkling wine, close to its Champenoise roots, made with careful attention to detail and in accordance with techniques developed by the Champenoise winemakers of northern France.
The grapes involved are Pinot Noir, Chardonnay and Pinot Meunier from the vineyards of the Kimura family, located in Yoichi, Hokkaido. The grapes, fermented "a la mode champenoise", produce a crisp, gently aromatic sparkling wine show-casing grapefruit, strawberry, brioche, and nuts. Original identity of Kita-no-Novo rose was based on many blending trials between red wine and Cuvée.
Try this with carpaccio of smoked salmon, borsch, arancino, scallop croquette.
TECHNICAL DATA
VARIETY
Pinot Noir 76 %, Chardonnay 20 %, Pinot Meunier 4 %
VINEYARD
Kimura vineyard, Nobori, Yoichi, Hokkaido
HARVEST
DATE
28th, 29th, 30th September
1st, 4th, 5th, 7th, 12th, 28th, 29th, 30th, 31st October 2015
2020(dosage of Pinot Noir-red wine)
BOTTLING
Over 52 months in the bottle with yeast
Tirage on: 11th August 2016
Disgorgement on : 15th February 2021
ANALYSIS
DATA
Alcohol: 11.7 %
Total acidity: 8.1 g/L
Residual Sugar: 3 g/L
23/Feb/2021
●2015 kita no novo rose Wine Details PDF