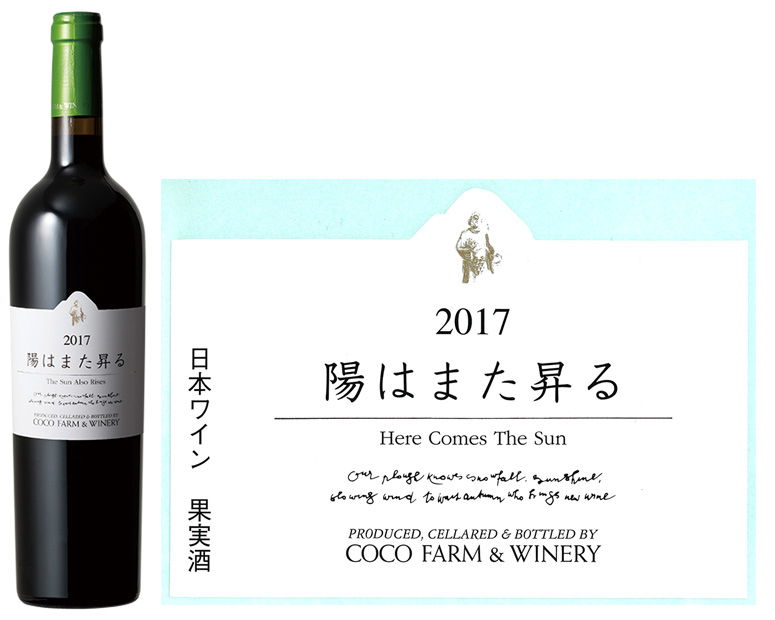 The "Here Comes the Sun" has its origins in the southwest of France. There they grow a little know red wine grape variety called Tannat. We first became interested in Tannat when looking at climatological data for French wine producing regions. In the appellations of Madiran and Jurancon we found weather patterns similar to those of Japan, with high summer rainfalls and high temperatures. We thought that the grape varieties indigenous to the region might be suited to Japan's climate, and so we imported some of these vines, including some Tannat.
It took a number of years to increase the number of Tannat vines to a point where we could plant several vineyards, but with the results in hand we are certainly glad that we took the time. The "Here Comes the Sun" is a powerful, deeply colored, highly structured wine in a classic style. Tannat (from mountain vineyards in Yamagata, and Nagano prefectures) provides the structure and depth, while Cabernet Sauvignon from Yamagata adds a plush, smooth character.
We recommend this wine with beef steak, smoked game, and any other grilled meat dish.
TECHNICAL DATA
VARIETY
Tannat 82 %
Cabernet Sauvignon 18 %
VINEYARD
Kaminoyama Yamagata
Takayama Nagano
HARVEST
DATE
Tannat: 17th 18th 21th 23th October 2017
Cabernet Sauvignon: 26th October 2017
Brix @the Harvest: 21°Brix(average)
BOTTLING
Bottled on: 17th January 2019
The number of bottles: 6,478(750ml)
ANALYSIS
DATA
Alcohol: 11.8 %  Total acidity: 0.63 g/ 100 ml.
Residual Sugar: 0.10 %
05/Mar/2020