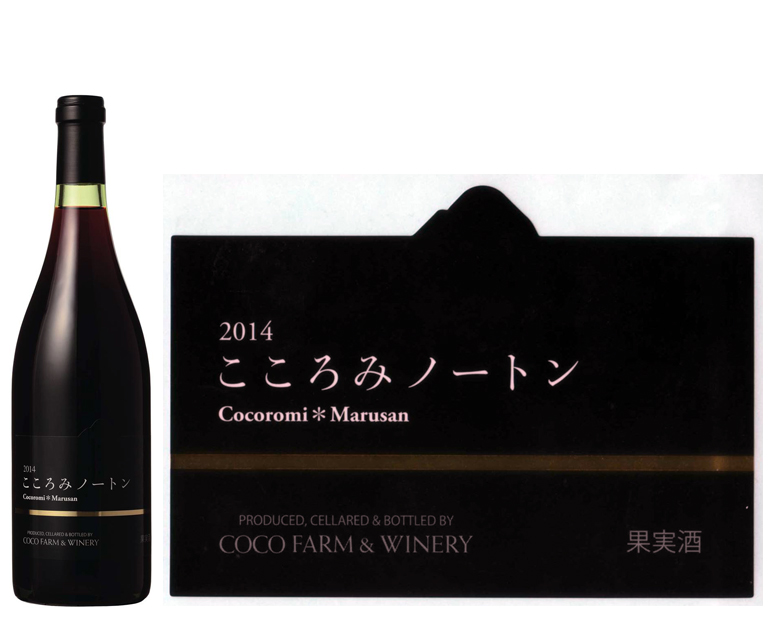 Cocoromi Norton is an exceptional wine made mainly from the Norton grape. The Norton grape variety is almost entirely unknown, and originated in eastern America's Virginia before being brought to Missouri where it is now enthusiastically grown for wine production. In Missouri and Virginia, Norton yields fruity, deeply colored, impressive wines. This is done in spite of the fact that the areas have high summer temperatures, with abundant rains. Given that these weather patterns are also found throughout much of Japan, we thought we could make good wine using Norton. Through a vine importation and propagation program we began planting Japanese Norton vineyards in 2000.
The character of the 2014 Cocoromi Norton is quite floral, showing violet and jasmine notes, fruit-filled flavors of plum and cassis, and red fruits. The backbone of crisp acidity is typical of the Norton grape. And the quality and intensity of the wine is typical of the vineyard, owned and operated by the good people of Cocoromi Gakuen.
A mature example would be perfect with meat or fish with sour fruits sauce, especially roast duck with raspberry sauce.
TECHNICAL DATA
VARIETY
Norton 85 %
Tannat 15 %
VINEYARD
Tajima, Ashikaga, Tochigi
Akami, Sano, Tochigi
HARVEST
DATE
23th 24th September 2014 (Tannat)
18th 20th October 2014 (Norton)
Average Brix at Harvest: 20.8°Brix
BOTTLING
Bottled on: 18th December 2015
The number of bottles produced: 1,703 (750ml)
ANALYSIS
DATA
Alcohol: 11.7 %   Total acidity: 0.71 g/ 100 ml.   
Residual Sugar: 0.15 %
18/Apr/2016